Course Tour & Information
"The midlands most scenic, dignified, and challenging course." – Don Lee, Omaha World Herald writer
Omaha Country Club offers some of the finest amenities in Omaha, including an 18-hole championship golf course. Magnificently designed throughout 300 acres of forested countryside and original Omaha farmlands, each hole respects a land of great natural beauty with panoramic views of mature vegetation and natural rolling terrain.
This course was originally established in 1925 by Wayne Stiles. In 1951, nationally acclaimed architect, Perry Maxwell, was retained to breathe new life into the time-honored course. Omaha Country Club now sits among the nation's finest private clubs including Augusta National, Prairie Dunes, Southern Hills and Colonial — all of which are Perry Maxwell designs.
Honoring the spirit and integrity of the original course and the redesign by Perry Maxwell, renowned golf course architect, Keith Foster, was commissioned in 2005 to restore the golf course's traditional appearance and character. Enhancements to the course were completed in October of 2006 and the course was reopened in June of 2007.
The magnificent tree-lined fairways, multiple tee positions, strategically placed bunkers and hazards, and impeccable "Maxwell greens" are focal points of the renovated course. They have been meticulously designed to highlight the natural terrain and beauty of the land it occupies. These features, combined with new PGA-grade sand in all of the bunkers, new concrete cart paths, an enlarged practice facility and new course bars make the renovated course truly luxurious!
View our course map.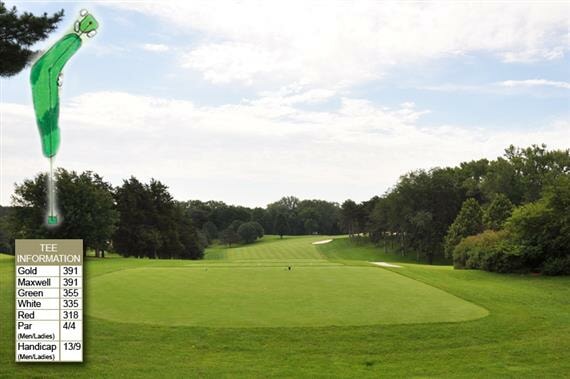 Par 4 385 Yards
Great opening hole. Dogleg right with an uphill second shot. Club selection for second shot is challenging as you don't feel the prevailing wind from the driving area.
| Hole | 1 | 2 | 3 | 4 | 5 | 6 | 7 | 8 | 9 | SET |
| --- | --- | --- | --- | --- | --- | --- | --- | --- | --- | --- |
| Gold | 391 | 553 | 234 | 419 | 193 | 543 | 194 | 482 | 405 | 3387 |
| Maxwell | 391 | 507 | 214 | 401 | 193 | 513 | 173 | 390 | 405 | 3151 |
| Green | 355 | 493 | 207 | 376 | 170 | 504 | 154 | 378 | 373 | 3014 |
| White | 335 | 445 | 191 | 343 | 160 | 430 | 148 | 333 | 355 | 2745 |
| Red | 318 | 440 | 175 | 336 | 141 | 423 | 130 | 327 | 314 | 2545 |
| Men's Par | 4 | 5 | 3 | 4 | 3 | 5 | 3 | 4 | 4 | |
| Ladies' Par | 4 | 5 | 3 | 4 | 3 | 5 | 3 | 4 | 4 | |
| Men's Handicap | 11 | 5 | 13 | 1 | 15 | 7 | 17 | 3 | 9 | |
| Ladies' Handicap | 7 | 1 | 13 | 5 | 9 | 15 | 17 | 11 | 3 | |
| Hole | 10 | 10 | 12 | 13 | 14 | 15 | 16 | 17 | 18 | SET |
| --- | --- | --- | --- | --- | --- | --- | --- | --- | --- | --- |
| Gold | 506 | 170 | 454 | 315 | 325 | 226 | 527 | 403 | 461 | 3384 |
| Maxwell | 506 | 143 | 397 | 315 | 325 | 210 | 508 | 357 | 390 | 3145 |
| Green | 495 | 143 | 377 | 291 | 312 | 198 | 488 | 338 | 372 | 3003 |
| White | 429 | 126 | 301 | 273 | 302 | 178 | 473 | 317 | 346 | 2838 |
| Red | 413 | 112 | 297 | 267 | 292 | 168 | 394 | 302 | 300 | 2539 |
| Men's Par | 5 | 3 | 4 | 4 | 4 | 3 | 5 | 4 | 4 | 36 |
| Ladies' Par | 5 | 3 | 4 | 4 | 4 | 3 | 5 | 4 | 4 | 36 |
| Men's Handicap | 6 | 14 | 4 | 18 | 16 | 12 | 2 | 8 | 10 | |
| Ladies' Handicap | 2 | 18 | 8 | 14 | 12 | 16 | 6 | 4 | 10 | |